E-flite Habu STS Jet with 70mm EDF (1029mm / ARR)
ngineered for improved low-speed handling and performance to make flying and landings easier, the E-flite® Habu STS (Smart Trainer with SAFE®) 70mm EDF makes it possible to succeed in learning to fly with a jet as your first ever radio-controlled (RC) airplane! Based on one of the best Electric Ducted Fan (EDF) sport jets ever designed, it's been optimized with the addition of SAFE® (Sensor Assisted Flight Envelope) technology featuring Beginner, Intermediate, and Experienced flight modes to make it easy to fly successfully, especially with the help of an instructor. Wide-stance tricycle landing gear with a steerable nose wheel and oversized tires allows for takeoffs and landings on surfaces ranging from paved runways to grass and even dirt, plus you can install the optional Landing Assist Sensor (LAS) that automatically "flares" for smoother landings to make learning to land even easier! Best of all, the durable EPO airframe assembles quickly and easily without the need for glue or special tools — which means you can be ready to fly in less time than it takes to charge a battery.
FEATURES:
Unique and optimized airframe design improves low speed handling and slow speed performance
Equipped with exclusive SAFE®

 

technology that helps prevent crashes and makes it easy to learn how to fly
Beginner, Intermediate and Experienced flight modes you can easily change between at the flip of a switch
Panic Recovery mode at the push of a button to prevent loss of control and crashes
Spektrum™

 

DXS controller/transmitter with industry-leading DSMX®

 

2.4GHz technology for reliable control without interference
Powerful brushless electric power system with 70mm 10-blade fan
3S and 4S compatible 70-amp telemetry-capable ESC
Oversized tires for operation from a variety of surfaces including grass
Wide-stance tricycle landing gear with steerable nose wheel
Lightweight yet strong and durable EPO construction
REQUIRED:
(1) 3S or 4S 3200-4000mAh LiPo Battery with IC3/EC3 Connector 
(1) LiPo Battery Charger
SPECIFICATIONS:
Part# EFL015001
Skill Level: Level 1
Fan Size: 70mm EDF
Wingspan: 40.51" (1029 mm)
Connector Type: IC3
Motor Type: Brushless
Motor Size: 2847 / 3200KV (6-Pole)
Minimum Speed Control: 70-Amp
Sub-Micro Servos: x5 (Installed)
Product Length: 45" (1143 mm)
Product Weight: 46.4oz (1316g) without Battery
Power Type: Electric
LiPo Compatibility: 3S
Approximate Assembly Time: Less than 1 Hour
Flaps: No
Material: EPO
Radio: Spektrum™ DXS Transmitter
Technology: Smart, AS3X, and SAFE
HELPFUL LINKS:
INCLUDES:
(1) E-flite® Habu STS 70mm EDF
(1) Spektrum DXS DSMX® 2.4GHz Transmitter
(4) AA Batteries for Transmitter
(1) Product Manual
MORE INFO: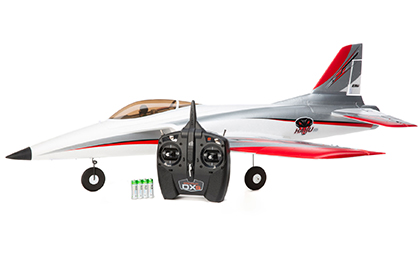 Ready-To-Fly Basic Flexibility
This Ready-To-Fly (RTF) Basic version includes a Spektrum™ DXS controller/transmitter equipped with industry-leading DSMX® 2.4GHz technology and everything else you need to fly except for a rechargeable lithium polymer battery and charger for the airplane. The convenient and money-saving Spektrum™ Powerstage 3 bundle (SPMXPSA300) includes a compatible 3S 4000mAh Smart G2 LiPo battery and an S120 USB-C Smart charger that can be used with a variety of USB power sources. Or you can choose the separate 3S or 4S 3200–4000mAh battery and compatible charger you prefer!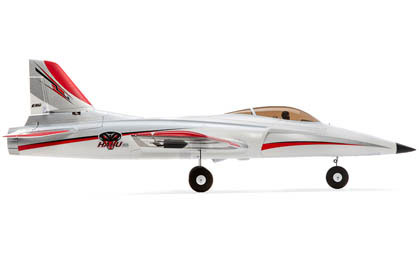 Uniquely Optimized
Jets are typically faster and harder to fly than most of their prop-driven counterparts, which made it impossible for first-time, and even low-time, RC pilots to fly them – until now! The unique and optimized airframe design of the Habu STS improves low speed handling and slow speed performance to finally make it possible to learn to fly radio controlled (RC) airplanes successfully with a jet.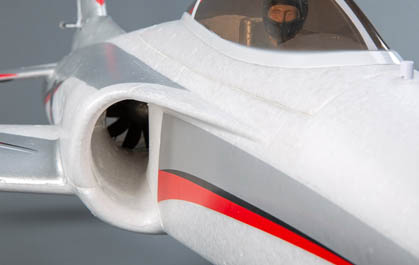 High Power
The factory-installed brushless power system features a 70-amp telemetry-capable ESC plus a specially-tuned motor and 10-blade 70mm fan that delivers an abundance of thrust with a 3S LiPo battery, or more power and speed with a 4S battery without the need for any modifications or upgrades.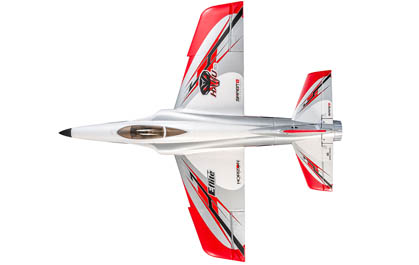 Durable Design
Construction with advanced EPO material delivers a lightweight yet durable airframe that's tough enough to handle everyday flying punishment without getting bent out of shape. And in the unfortunate event you damage any airframe parts or components and can't repair them, a full line of replacement parts is readily available.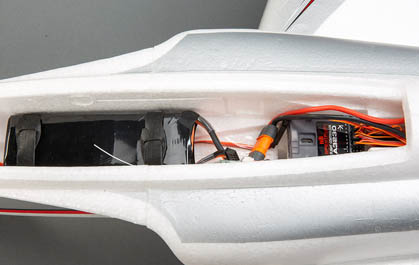 Easy Assembly
The Habu STS 70mm EDF arrives mostly factory-assembled with the power system, servos plus the flight controller and receiver installed. All you need to do is finish some quick and easy final assembly, without the use of glue or special tools, and you'll be ready to fly in less time than it takes to charge a battery!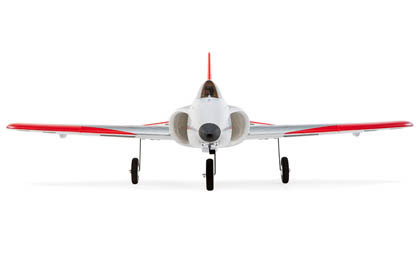 Capable Gear
The wide-stance tricycle landing gear with a steerable nose wheel and oversized tires offers improved ground handling for easier take offs and landings on a wide variety of surfaces from paved runways to grass and even dirt.
Quick FAQs
Is the product I want in stock?

Unless a product shows a status of "Out of Stock", it is in-stock and ready to be shipped or ordered for pick-up.

All items shown on our website are shipped out by our brick-and-mortar store in Jacksonville, Florida.
We currently ship to the United States and all US Territories, including Puerto Rico. To inquire about shipping to a different destination, please contact us.
When will I receive my order?

Economy Shipping normally takes 5-8 days while Standard Shipping usually arrives in 3-5 days.

Please see our Shipping Policy for additional info including processing times.
How do I return a product?

Items can be returned In-Store during regular business hours.

For online purchases, please e-mail us at sales@rc-n-go.com for a Return Authorization.

Please see our Return Policy for more details.