---
The 1/8 scale TYPHON™ 4X4 3S BLX RTR delivers power, strength, style — and 50+ mph potential speeds. It's now better than ever, with a Spektrum™ SLT3™ radio, Firma™ brushless motor, tougher chassis, more powerful steering servo and other upgrades.
FEATURES:
Extremely durable — DESIGNED FAST, DESIGNED TOUGH!
Fast, 50+ mph speeds
Ideal entry into brushless buggy bashing
Spektrum™ SLT3 2.4GHz Radio System:
BLX100 Brushless System
Easy-access power module
Easy-access electronics module
Metal-geared differentials
Double wishbone front and rear suspension
Oil-filled shocks with adjustable links
High-speed center driveshaft support
Built-in servo saver for robust, responsive steering
Adjustable turnbuckles
Adjustable ride height
Adjustable body mounts
Tough multi-spoke matte black wheels
Multi-terrain dBoots®

 

2-HQ tires
17mm red-anodized aluminum hexes
Durable composite C-hubs
Accepts standard 1/8 scale buggy wheels and tires
Metallic-look body with forged composite detail
High-downforce wing
Realistic decals
Waterproof electronics *
2-year limited warranty **
REQUIRED:

(1) 2S or 3S 35C+ LiPo or 6 to 8 Cell NiMH Hardcase Battery with IC5™/EC5™ Connector
(1) LiPo or NiMH Balancing Charger
(4) AA Batteries
SPECIFICATIONS:
Spektrum™ 3-Channel SLT3™ 2.4GHz radio and SLR300 Waterproof* Receiver:
Fast response SLT™ protocol
Foam wheel
Improved grip and trigger feel
Improved wheel and trigger force
2-way thumb switch third channel
50% and 75% Throttle mode (for beginners)
Tactic® SLT™ receiver compatible


HELPFUL LINKS:
INCLUDES:

(1) ARRMA 1/8 TYPHON™ 4X4 BLX RTR Speed Buggy with:
(1) Spektrum™ SLR300 3-Channel Waterproof Receiver (installed)
(1) ADS-7M Waterproof, Metal Gear Servo (installed)
(1) ARRMA BLX3660 3200Kv Brushless Motor (installed)
(1) BLX100 ESC 2S/3S with IC5™ connector (installed)
(1) Spektrum™ SLT3 2.4GHz 3-Channel Transmitter
(1) Product Manual
NOTES:
 * For details on waterproof standards, please refer to the product instruction manuals
** Please see the product manual for warranty details
MORE INFO:
ARRMA® powers the 1/8 TYPHON 4X4 3S BLX with its BLX100 brushless system for incredible torque, acceleration, and speed. This 3S LiPo-capable setup has already proven the speed and toughness of its 3200Kv brushless motor and 100A ESC, now equipped with an IC5™ connector (EC5™ compatible). The transmission and chassis are ruggedly engineered to take full advantage of the electronics' power — in ARRMA tradition, DESIGNED FAST, DESIGNED TOUGH.
The low center of gravity, with wide arms and narrow buggy wheels and tires, improves handling over all of your favorite bashing terrain — race tracks, trails, muddy courses, skate parks, and more. With its metallic-finish body and forged composite detail, the TYPHON 4X4 3S BLX also looks as great as it performs. A stylish, high-downforce wing keeps all four wheels planted as you explore the upper limits of its outrageous speed range!
BLX100 Brushless System:

BLX3660 3200Kv brushless motor
BLX100 ESC 2S/3S with IC5™ connector (EC5™ compatible)
Easy-access Power Module:
Detaches from chassis as a complete unit by removing one screw
Contains motor, motor plate, slipper clutch assembly, and gear cover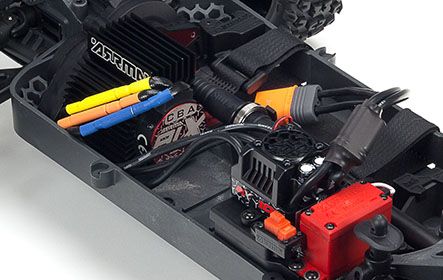 Easy-access Electronics Module:
Two-piece molding screwed to the chassis contains a waterproof receiver box, servo mount, and ESC tray
Receiver mounts inside a sealed module for protection from dirt and moisture
ESC screws to the top for easy maintenance and switch access
Servo mounts on the side for quick servicing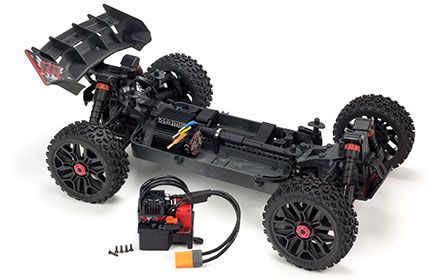 Metal-geared Differentials:
Large pitch gears engineered to handle BLX brushless power
Internal metal gears chosen for extreme bashing, longevity, and reliability
Easy-access front and rear diff module removal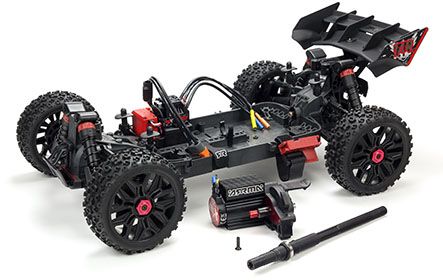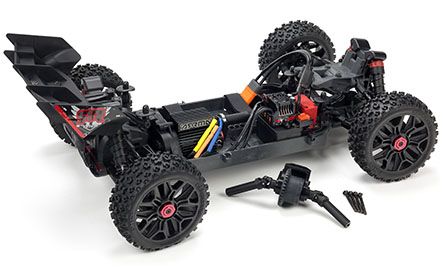 dBoots® 2-HQ Multi-terrain Tires:
Black multi-spoke wheels and 2-HQ all-terrain tires for superb traction and cornering wherever you may roam.